Wooden furniture and bespoke features can be elevated through the combination of alternative materials. Here are some of our favourite ways to combine timber with other elements.
Timber is a versatile natural substance that lends itself nicely to being paired with alternative materials. At Craft Furniture, we specialise in creating beautiful bespoke pieces that are made of raw timber. However, we also love pairing our pieces with different elements to create something unique. Here are some of our favourite combinations and where to use them.
How to Mix and Match Different Materials with Wood
Marble and Wood
The combination of timber elements with marble is a beautiful pairing. The gentle grain of the timber has the opportunity to emphasise the movement in the stone leading to a wonderful synergy between the two elements.
There are a multitude of ways to create this pairing from coffee tables to kitchens- one of our favourites is the combination of the two in a wall feature. Through using strategic incorporated lighting, you can create a focal point that heros each of the materials.
Glass and Wood
The light clarity of glass and the substantial nature of wood results in a beautiful balance between the two elements. This allows the wooden features to really shine in the final design. If you want to create a bespoke piece that puts the spotlight on the wooden elements rather than the glass elements, this is the perfect combination.
Using glass and timber is a great way to create a sense of space and is perfect for smaller areas that need to feel more expansive. A great example of this is to use glass as a table top surface with the heavier timber elements at the bottom as a grounding structure. It's also fantastic to use this combination in a kitchen or general cabinetry so that the elements inside can be seen at all times.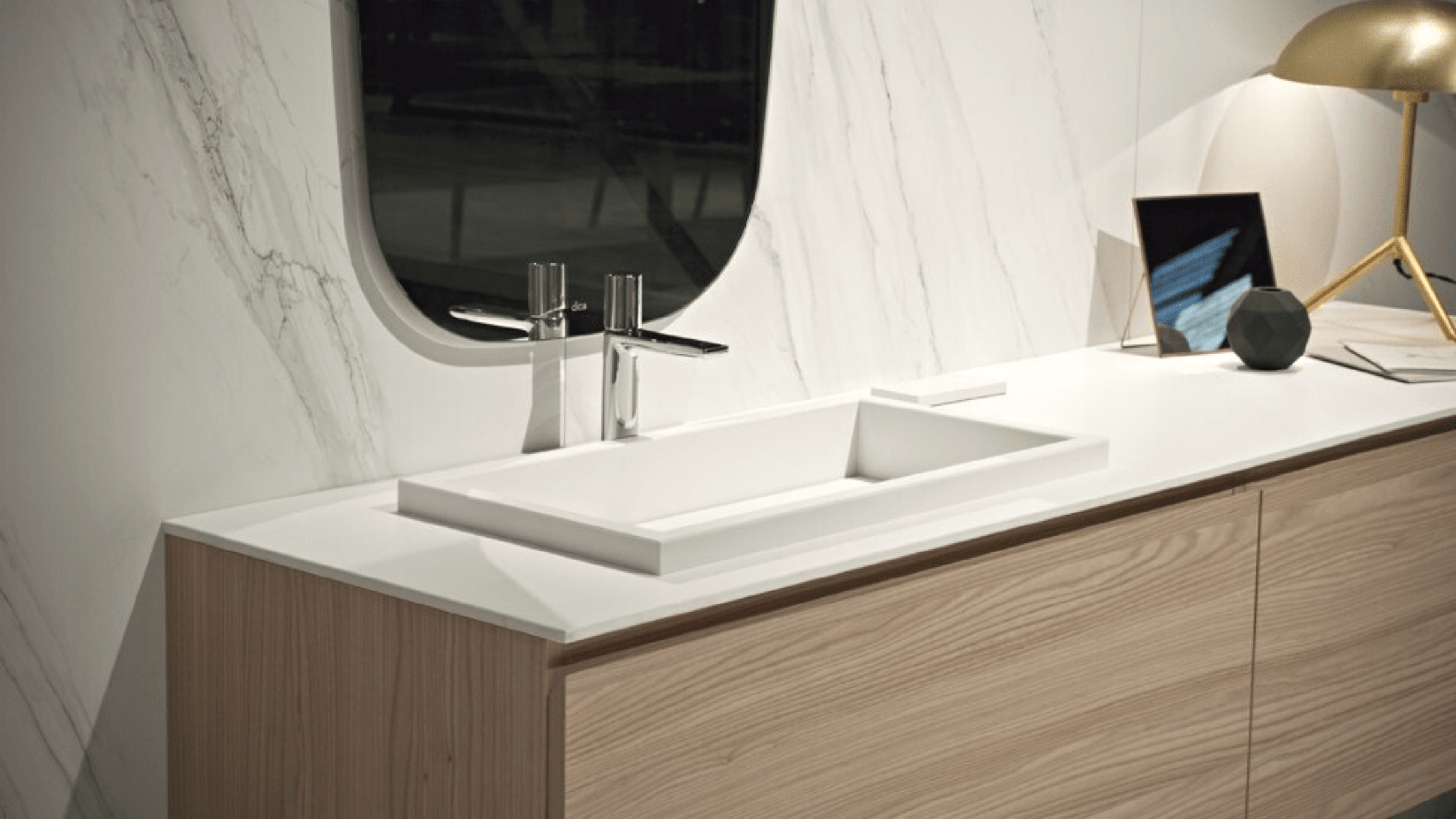 Solid Surfacing and Wood
There are some areas and designs where you simply cannot use wood- such as vanities or kitchen sinks. There is a wonderful surfacing option that is the perfect solution for this, it's called solid surfacing. It has a long lifespan and is great to use in areas that see high-traffic or need to be impermeable to liquids and bacteria. The combination between the two materials works very similarly to marble but with the option of having a simpler finish.
Similar with other material combinations, solid surfacing and timber can be used in a variety of designs. From tables such as coffee tables, console tables and even dining room tables all the way through to bathroom vanities and kitchen sinks- the two materials hero each other in a harmonious and minimalistic end-result.

Metal and Wood
There is nothing more impactful than the combination of juxta-posing design elements. This is the perfect way to explain the combination of the determined and man-made characteristics of metal and the softness of natural wood. Through this mixture of elements, it brings out something unique in each of them. Where wood can be seen as the more consolidated element in other combinations, here it is softer and gentler allowing the metal to shine through.
Due to the strength of metal, it is great material to use for designs that need to be more hardy such as shelving or coffee tables that see a lot of traffic and receive quite a few knocks.
The combination of different materials with timber can elevate the completed design to be truly unique. It also allows you to speak to the overall design aesthetic of your home in a very direct manner. We are proud to say that we work with fantastic suppliers of these alternative materials to create truly bespoke pieces for our clients. If you are interested in finding out more about how we can create wooden furniture pieces that are one of a kind- contact us and we can start turning these designs into reality.
---
Craft Furniture is proud to be part of The Excellence Group
 who join like-minded brands in the industry to make it easier for clients to complete their home by working with one company. If you would like to find out more about how we at 
The Excellence Group
 can help you, give us a call on 021 035 1737 or send us an email at 
connect@theexcellencegroup.co.za
.