As you step into the reception area of the Mont Rochelle Hotel, you will be greeted by the friendly staff and unique reception desk that we made in collaboration with HotCocoa Designs and Monkeybiz.
At the foot of the Klein Dassenberg Mountain Range, you will find the Mont Rochelle Hotel. This stunning hotel and vineyard in Franschhoek is a superb celebration of culture, wine and culinary experiences- and it all starts at check-in.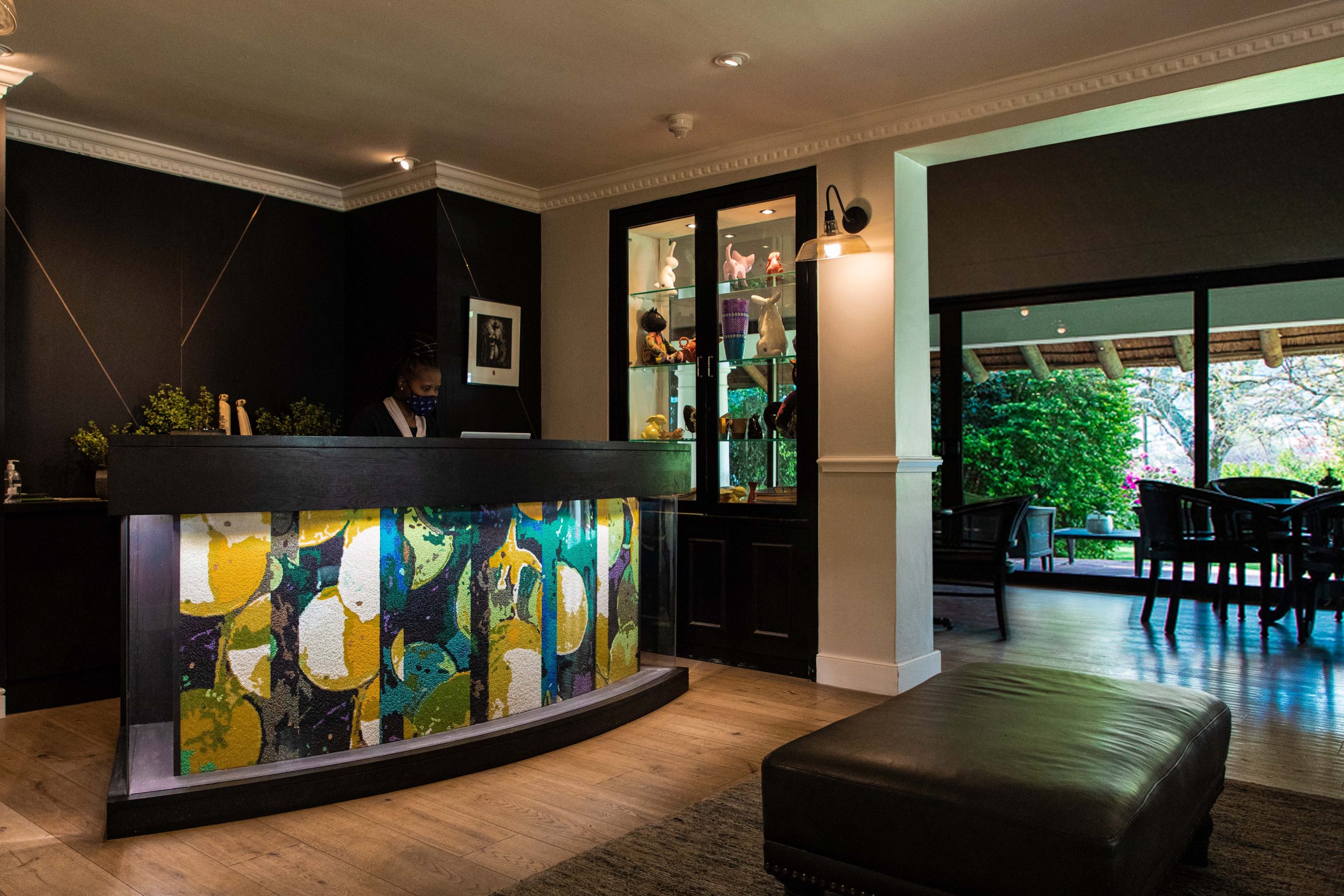 As you walk into the Mont Rochelle Hotel, you will be greeted by their wonderful staff standing behind a hand-beaded, timber and glass reception desk, which we helped to create. We worked in collaboration with HotCocoa and a local organisation-come-business called Monkeybiz for this reception desk to become a celebration of colour and local craftsmanship.
We were initially approached by HotCocoa Interiors and Design to create a unique reception desk design. They wanted a desk that was to be made out of timber but has a glass front to hero the main centrepiece – the beaded artwork to be cladded on the front of the desk by internationally renowned MonkeyBiz.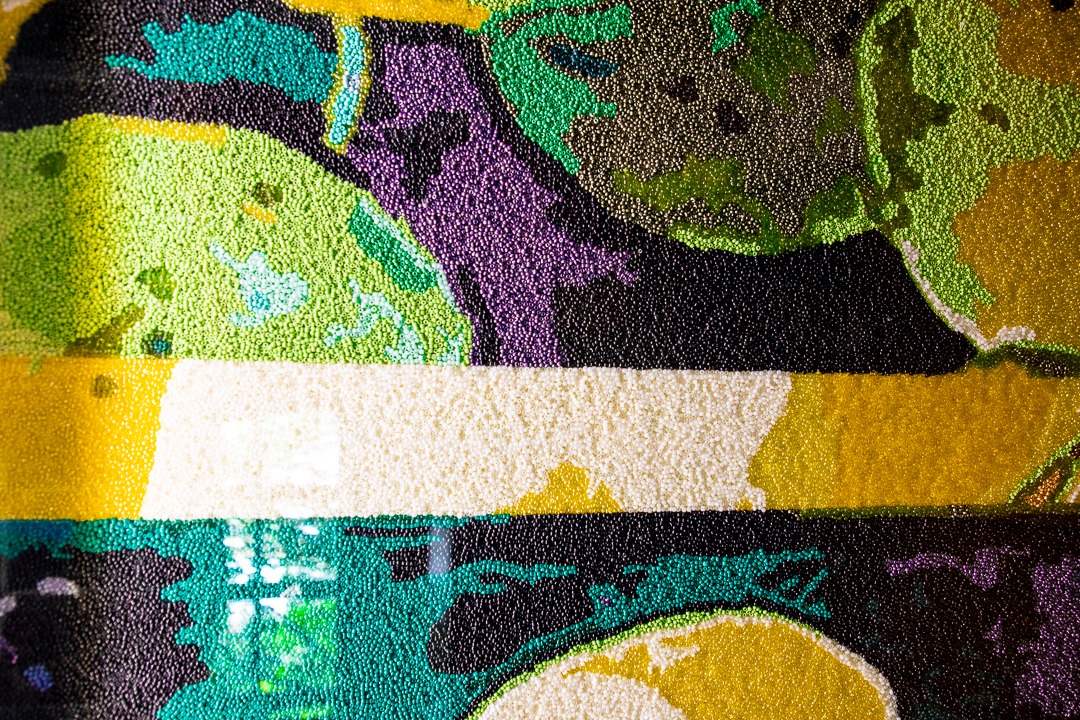 Monkeybiz is an organisation that was founded in 1999 by professional ceramicists and African art collectors, Barbara Jackson and Shirley Fintz. After they showed a part-time student, Mathapelo Ngaka, a small beaded doll they briefed her to make a doll that looks unique, and that is when Monkeybiz was born. Since then, this empowerment project has grown to over 450 beaders around South Africa and has seen these beaded artworks sold all over the world in London, New York, Paris and Tokyo and has even been in a short documentary called Bigger than Barbie!
These beading experts took the charge of the beautiful artwork clad onto the front of the desk. In order for them to do this, we needed to create a foundation for them to work off. We created a rounded profile template for the ladies at Monkeybiz to work to. Once that was completed we brought this back to the factory to finish off the final design. The solid prime American oak section of the desk was stained with carbon black- which is the perfect way to achieve the dark wood look without compromising on the grain of the wood coming through.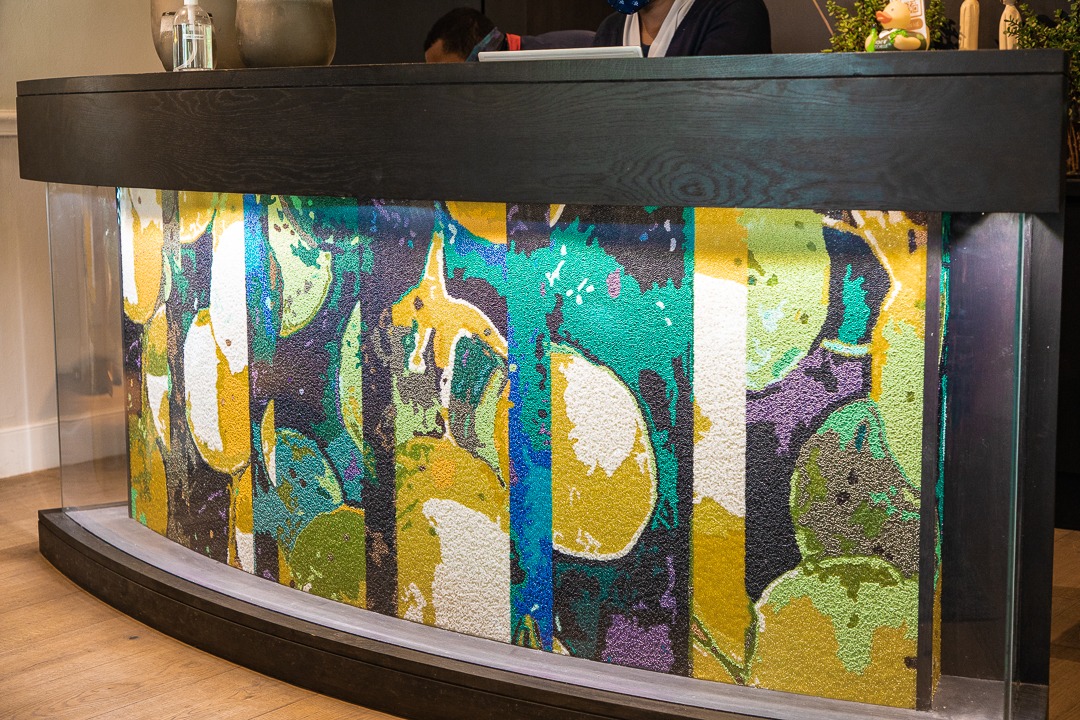 The final design consists of the rounded desk with beadwork, and a glass front to protect the beads and make them stand out as artwork. From a practical standpoint, it was important that the desk made sense logistically. Because of that, we made the top of the desk easily removable making it more accessible for regular cleaning.
This project is the perfect demonstration of how we are able to adapt our services to individual clients needs. We pride ourselves on our ability to work hand in hand with each our professional or residential clients to achieve the end results they are hoping to achieve.
---
Craft Furniture is proud to be part of The Excellence Group who join like-minded brands in the industry to make it easier for clients to complete their home by working with one company. If you would like to find out more about how we at The Excellence Group can help you, give us a call on 021 035 1737 or send us an email at
connect@theexcellencegroup.co.za
.