Coffee tables can bring a whole living room together. Here are a few of our favourite coffee table trends that we've noticed.
Living rooms are a core part of the home to create a space to host guests or relax after a long day. This area can also be a fantastic opportunity to make a statement, feature décor items and express your personality through furniture choices and layering. Your coffee table can become your biggest asset while decorating. You have the opportunity to tie all your upholstered furniture pieces together and make references to the style running through your home. We have noticed a few design trends lately that we think we should let you know about. Keep reading for our top five coffee table design trends.  
Monolithic
We're noticing monolithic design coming through in various design trends this season and coffee tables are of no exception. These sculptural pieces are often characterized by their clean, almost architectural line styles and block-like formation. If you're looking for a daring and edgy piece to add to your living room, this may be the answer! 
Nesting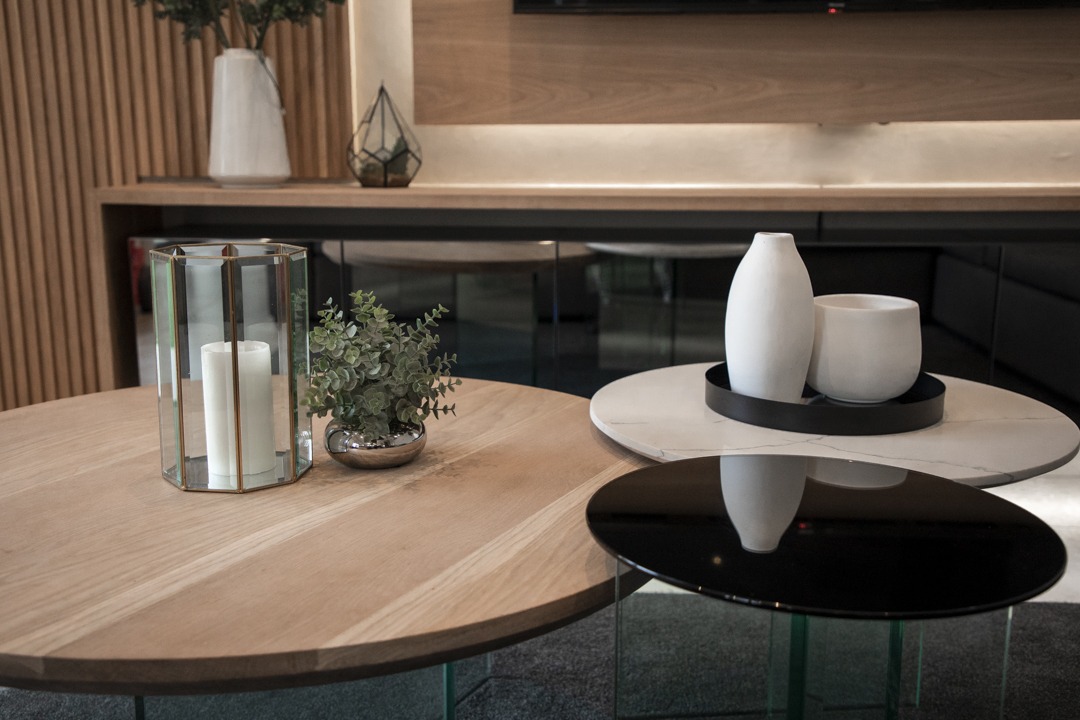 Sometimes one just isn't enough- which is why many designers have been leaning towards clustering a few small tables together to create a nest of coffee tables. This is great to increase the surface space and utility of the traditional coffee table design and allows you to reconfigure them when you feel like you need to change things up. By using a composite of materials and table sizes in the overall design allows you to create an interesting textural element that mimics your traditional layering.  
Tray
There is something so appealing about having layers on tables and tables with trays just have something special about them. The design of the tray table creates a space that encourages organization from the core layout. Having moveable trays on the main tabletop can allow for a variety of uses around the home as well sectioning for décor items.  
Two-tiered 
If you're in need of extra storage space or simply enjoy featuring an array of décor pieces, the two-tiered table may be the answer for you. The design consists of the traditional table top with an added level beneath that to create extra storage space. This is great for small spaces that are in desperate need of having a place to keep your bits and pieces. By going for a glass top it means you can keep your décor pieces in the second shelf which frees up the very top layer for cups, flowers or items that you need quick access to. 
Statement Piece
For the art collectors, creatives and statement-makers, this coffee table trend is for you. The trend itself is vast in its character however, it's founded in its artistic creation and craftsmanship. Create a unique design for your living room that merges art and functionality. These designs usually don't follow traditional forms or lines but rather opt for more abstract shapes, playing with scale, movement and textures. These tables act more as a sculptural piece adding to an existing art collection in the home.  
Trying to find the perfect coffee table that already exists can be a difficult feat. At Craft Furniture we can create your dream table design that will fit perfectly in your space.  
---
Craft Furniture is proud to be part of
The Excellence Group
 who join like-minded brands in the industry to make it easier for clients to complete their home by working with one company. If you would like to find out more about how we at 
The Excellence Group
 can help you, give us a call on 021 035 1737 or send us an email at 
connect@theexcellencegroup.co.za
.