Bespoke wooden furniture does not just apply to the mainstream elements such as tables and chairs. Craft Furniture provides wooden furniture solutions for all areas of the house.
Your home furnishings should reflect your personality and style, and we have the knowledge and expertise to bring your visions to life. Craft Furniture recently completed a project on the Atlantic Seaboard, Cape Town. We were tasked with various custom-made furniture elements in almost all rooms of this spectacular apartment.
Outdoor Furniture
All of the outdoor furniture elements were done in Balau wood. Balau is native to Asia and we used it due to its strength and durability in harsh environments (such as weather conditions).
On the first floor's outdoor area, we effectively 'framed' the glass in solid Balau timber for a flush, wooden feature.  This area was finished off with a Balau wooden handrail slotting over the glass balustrade. We also cladded the outdoor column in the same material to get a harmonious feel on the outdoor deck.
On the second floor's outdoor area we created a wooden bench over a concrete structure. This was followed by a Balau box created as a storage unit for the outdoor cushions used for seating.
Bedroom Furniture
A bedroom should feel luxurious, while still maximising functionality. Craft Furniture manufactured the wooden bed base, which was the covered with the material to match the headboard. We also did a floating wooden headboard, which also incorporated two floating pedestals on either side to be used as side tables. A strategically designed inlay was created in the wooden floating headboard to fill the section with the material piece to match the bespoke bed base.
Craft Furniture also manufactured a wooden screen to separate the bedroom and bathroom areas accordingly. These wooden screens were made out of oak, which we then stained to walnut to match the rest of the room.
Living Furniture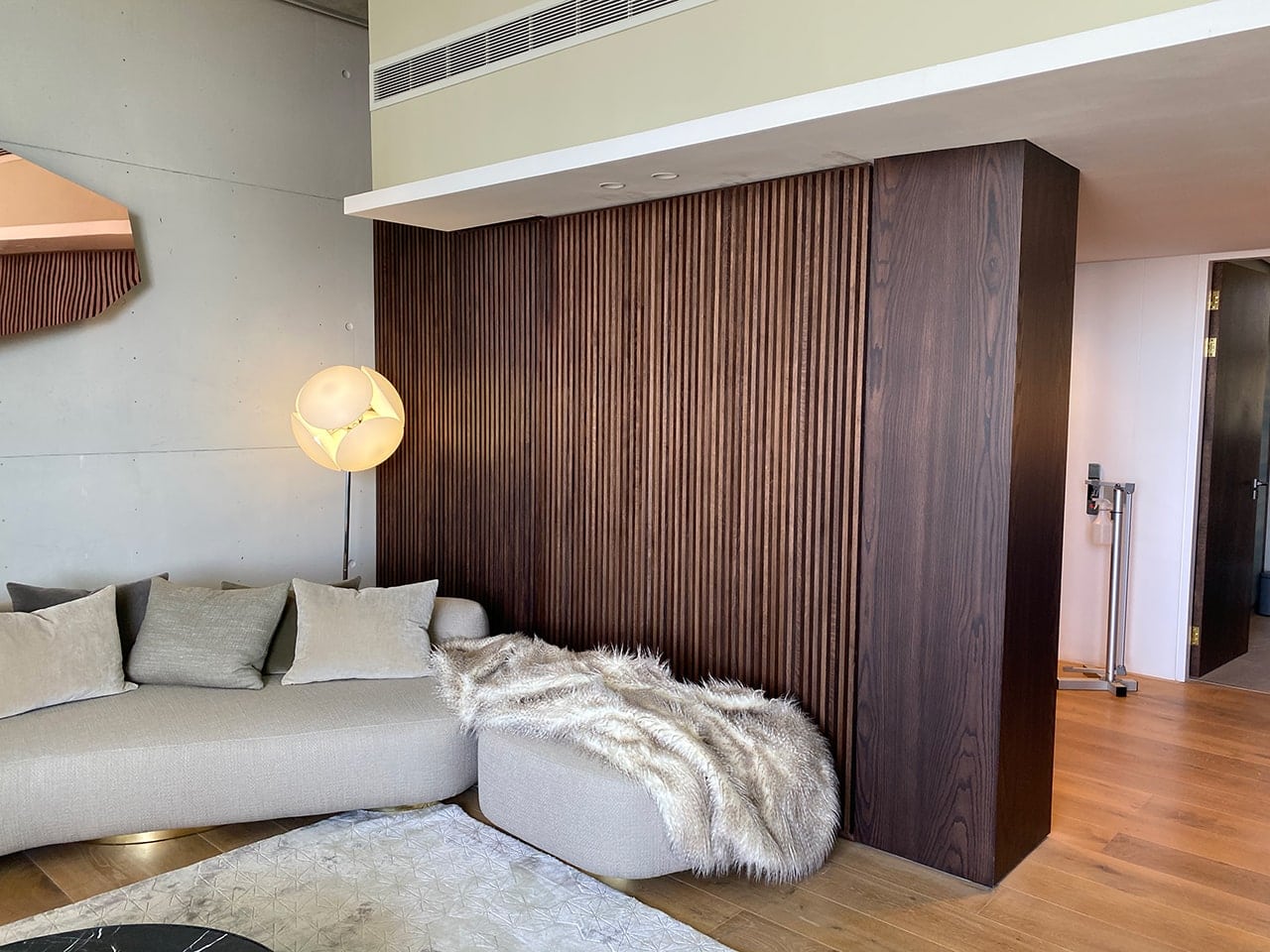 We removed the exiting TV unit in living room and built a floor-to-ceiling unit. This unit included a fire place and TV unit which was finished with a 'slatted' effect. The neighbouring column was completed in a similar effect. These bespoke furniture elements were made in solid oak and oak veneer stained in a Walnut finish.
The dining room table was a specially design ash table stained in a walnut finish to match the other bespoke furniture elements in the house. The almost hexagonal-shaped table was design to seat eight people.
Stair Accessories
For the staircase, we made custom skirting to frame the tile that surrounded the stairs. We also framed the wall paper to ensure the same, high-quality finish. We also manufactured a bespoke, irregular shaped handrail. All elements were stained to walnut.
Entrance Furniture
The entrance hall needed to be a statement area of the Cape Town apartment. We cladded the wall in oak veneer, stained to Walnut. This wooden wall cladding needed to have a special door to hide the DB board, which was strategically cut out of the wall cladding.
The wooden server unit is held by brass-cladded legs. This bespoke furniture piece was made from oak timber which we stained to give the carbon black finish.
---
Offering a turnkey solution, our expert team works with a range of materials to create spectacular furniture pieces in unique configurations of all colours, shapes and sizes. Email connect@craftfurniture.co.za for more information.